The traditional definitions of "volunteering" and "giving back" have expanded to include meaningful actions – both big and small. The global pandemic has definitely accelerated this trend.
The door has swung open to a whole new way of thinking about what it means to have an impact. And Benevity clients are embracing it. The resulting program changes include making the shift to allow – and track – a wider variety of employee actions in your program.
As you look to get more employees involved, you may be introducing some of them to your program and nurturing others as they climb the Goodness curve. Now what if you were tracking all of these actions and rolling them up as part of your total team impact?
In this article:
---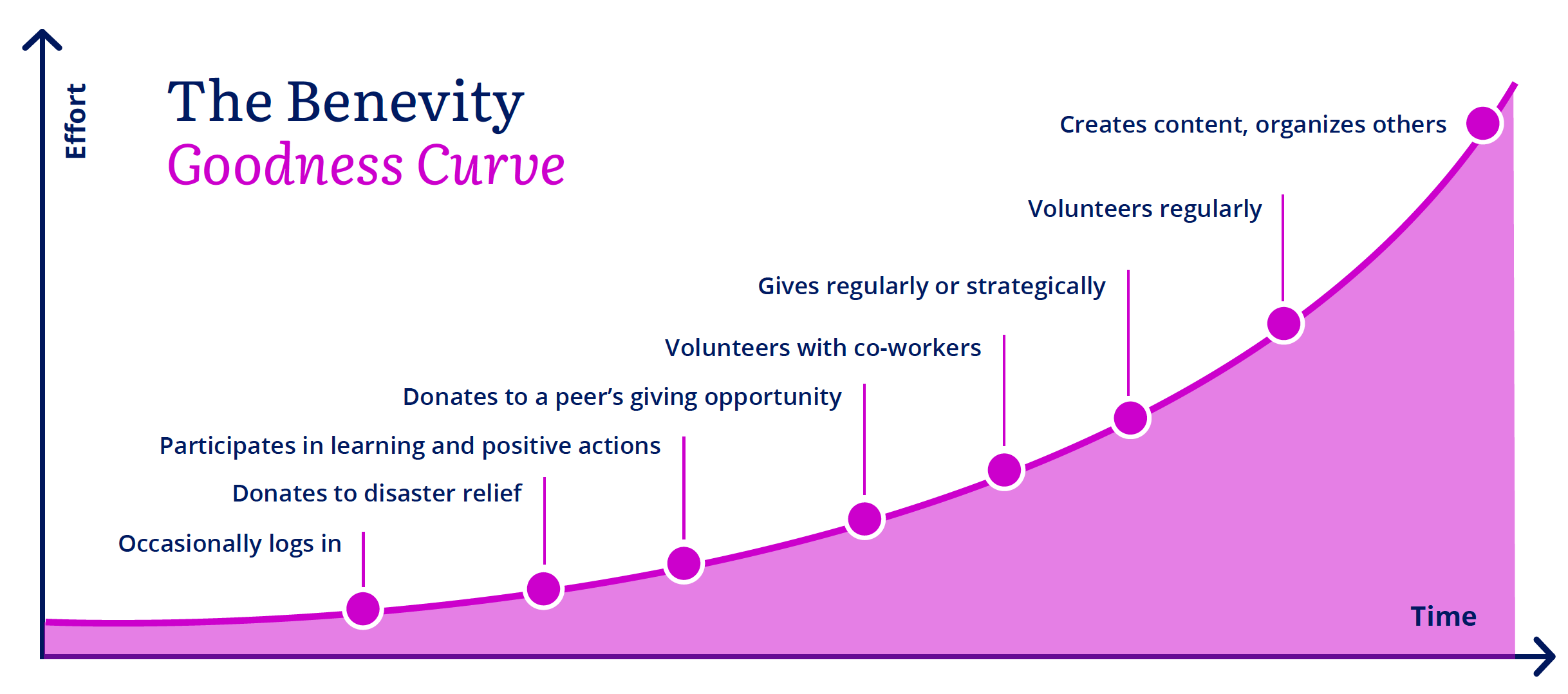 What is an Act of Goodness?
An Act of Goodness is a metric intended to capture a wider variety of actions in your program, that go beyond the typical ways people do good (such as giving and volunteering). This metric aims to also include those activities that help to propel more Goodness. Activities can range from publishing and promoting a cause or issue to visiting the program site and browsing the content. Keep reading for even more ideas!
Acts of Goodness were the foundation for our Dear 2020 Challenge and below you can find a list of all the actions that we counted towards our goal – categorized by how companies are activating purpose.
Encouraging Goodness: This category captures many of the way companies, nonprofits and individuals promote Goodness, whether it's creating new giving, volunteering or Missions opportunities, seeding Giving Accounts with donation currency or other incentives.
Approaching Goodness: This category includes behaviors that act as leading indicators of engagement, like visiting a company's program site via a web browser or mobile device
Engaging in Goodness: This category captures and measures program "outputs," like donating, volunteering, granting, matching and taking action.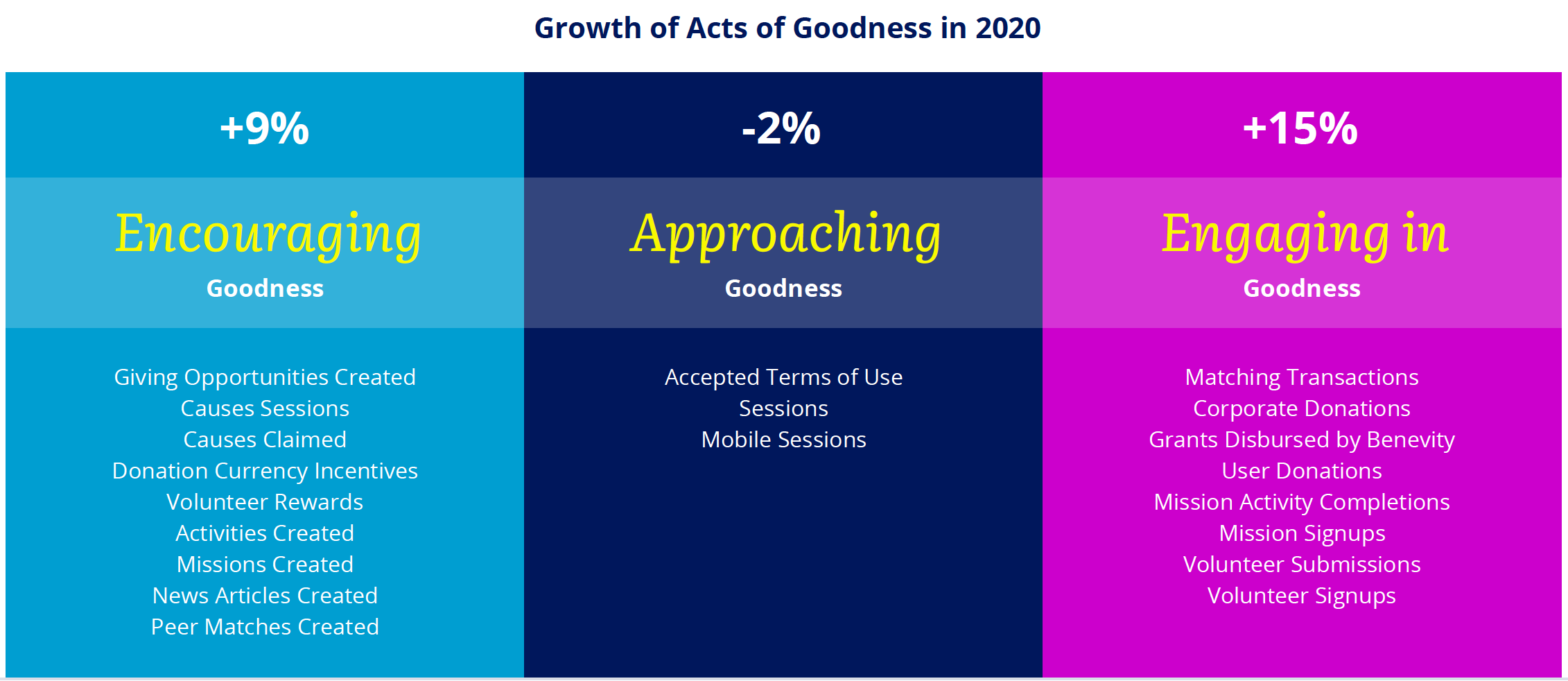 Acts of Goodness examples
Want to track these actions on your own? Below you'll find some descriptions of Acts of Goodness you and your people can take on! By no means is this an all-encompassing list and we encourage you to include any other trackable actions that you may come across!
Please note: In order to properly track all of these actions, you will need to have the option for "other volunteering" enabled on your time tracking form in Spark. If you would like to enable this option, please submit a request to help@benevity.com.
Act of Goodness

Description

Any Peer Match giving opportunity created by an employee or executive. They just add a match from their own funds and their co-workers can join the match pool or donate to receive a match.

Any regular giving opportunity (without a Peer Match) created by you or your people.

Interested in allowing your users to create their own giving opportunities? Reach out to your CSM to discuss having this feature enabled.

Any donation of corporate funds*, whether it's a corporate direct donation, Benevity gift card redemption or PAC match.
*Does not include seeding, matches or grants.

Offer a company match

Any company match on employee donations (through Spark) or customer and public donations (through your Community Impact Portal).

In instances where the match is funded by more than one matching campaign, each campaign match will be counted*.
*Does not include Peer Match.

Each time "donation currency" funds are added to an employee's Giving Account
Note: Seeding 1,000 employee Giving Accounts, equals 1,000 Acts of Goodness!

Make a donation

Any time an employee, customer or community member makes a donation through your Spark site or Community Impact (CI) Portal*, that's one Act of Goodness.
*This doesn't include expired rewards and gift cards.

Accept Spark terms of use

Whenever a new user accepts the terms of use in the Spark platform.

This is the important first step in their Goodness journey, so it deserves to be rewarded! Check out our guide on how to target users who have not accepted the terms of use and get them engaged!


Create a volunteer opportunity

Any volunteer opportunity created by your company or your people*.
*Doesn't include nonprofit-created volunteer opportunities or volunteer opportunities that are integrated via VolunteerMatch.

Sign up to volunteer

Whenever an employee signs up for a volunteer opportunity.

Submit volunteer time

Each volunteer hour tracked and submitted by an employee.
Note: Creating an opportunity, signing up and tracking time becomes three Acts of Goodness

Set up volunteer rewards

Each monetary reward you offer your volunteers for their time.

These rewards must be added to the person's Giving Account balance.

Each time a Mission is created by your company or people.

Each time a Missions challenge is created.

Each time a Missions activity is created.

Sign up for a Mission

Each time a person signs up for a Mission.

Complete a Mission

Each time a person completes a Mission.

Each time you create a news article to promote, educate about or celebrate your initiatives.
Other useful resources
The trick to reporting on your acts of Goodness quickly and easily is selecting the stock report that has the type of reporting information for your requirements. We've pulled together a quick resource to help guide you through what's available within Benevity Reporting and how these resources can help you report on challenges in the future.
Thanks to our amazing clients and all their people, we showed 2020 that together we are unstoppable. We finished our Dear 2020 Challenge with a total of 3,357,236 acts of Goodness completed – 357,236 more than our goal! An infographic with all the final numbers from the Dear 2020 Challenge can be found at the link above.