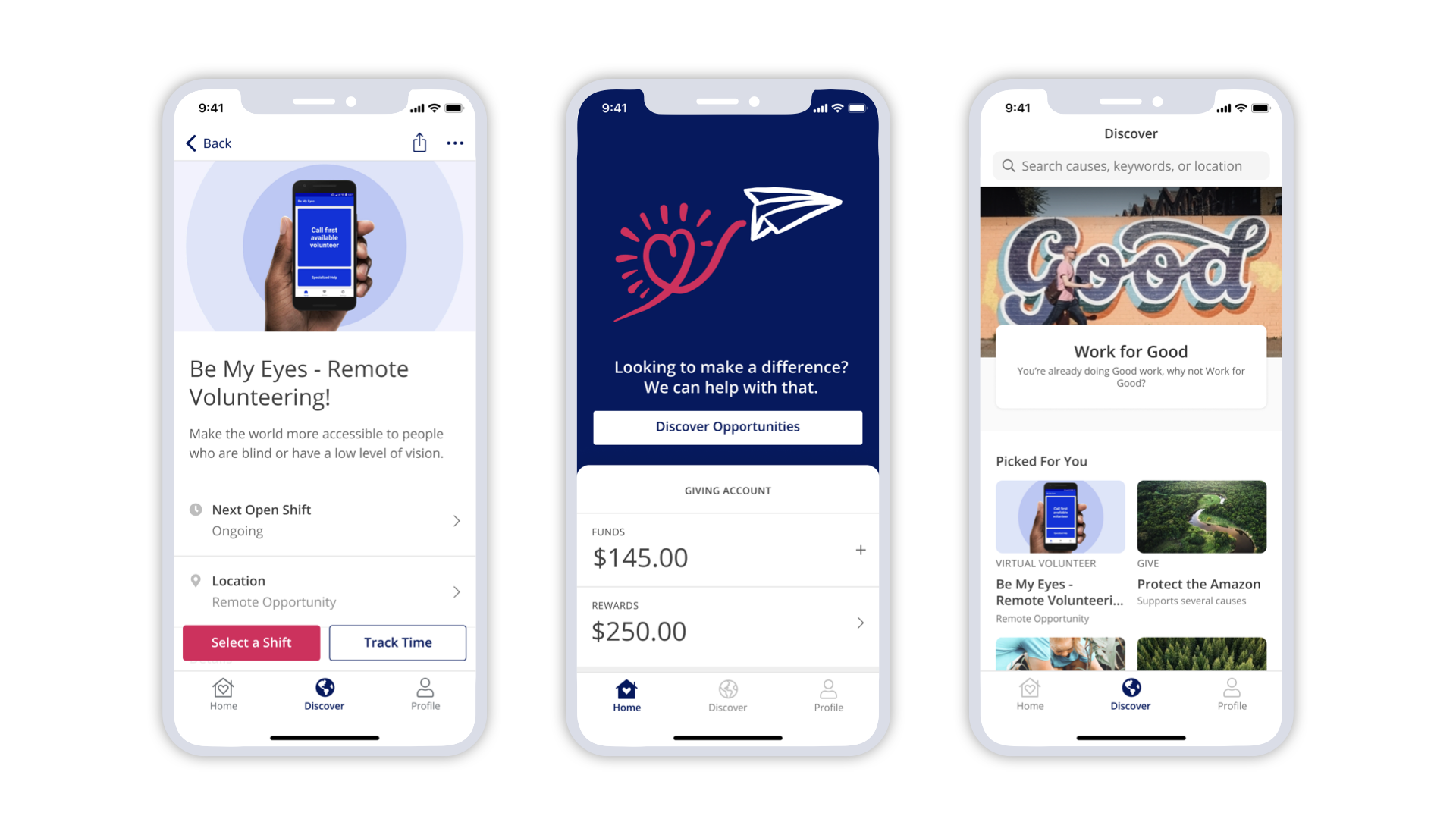 The Benevity app empowers your people to volunteer, give and take positive actions whenever (and wherever!) they're most inspired. And it can help you build a more accessible, inclusive program that engages all your employees, providing them with a sense of meaning and impact through their work.
Now you can meet people where they are — whether it's working from home or in a factory, a field or a retail store — and put the power of Spark, Benevity's award‑winning employee engagement solution, into their hands. Make it easy for everyone to participate, engage and share Goodness anywhere.
What you need to know about the Benevity App
The urge to do good is often spontaneous, so when personal experience creates the desire to act, your people can give support in the moment and on the go! Using the app the users can instantly:
Track their Goodness, seeing at a glance how much they've donated, available Giving Account balance and matching funds, and how many volunteer hours they've logged.

Discover new opportunities, including Trending Now and Popular Causes content, company-featured initiatives and the ability to search for more ways to do good.

Sign up for volunteer opportunities and track time immediately. With Activity Streams, your people can instantly upload photos to share their experience and inspire others.

Donate to causes whenever they're inspired to give: by payroll, Giving Account rewards, credit card, PayPal and Apple Pay on iOS devices.

Access learning resources through Missions and make new positive habits when it's most convenient.
The app makes it easy for all of your people - wherever they are located - participate in your initiatives, so they can create deeper bonds with each other and your culture.
Benevity App Resources
We've pulled together a few resources to help you educate others in your organization about the app and to give you the guidance and tools you need to launch the app into your program and to your employees.
More information about the Benevity App, how it can help you connect your disbursed or distributed workforce, and the value it can add to your program.

Share this resource with your peers when discussing launch or in your campaign planning to get them on board!
Enable the app, in just a few clicks, directly from your Management Dashboard right in Spark!
This guide will show you simple, powerful ideas you can use to launch the Benevity app to your people, so everyone can join you in changing the world, from the palm of their hands — and you can build a more inclusive culture where everyone feels like they belong.

It Includes campaign design and strategy insights to help you easily create and promote your campaign, launch templates and promotion tips to get your employees involved and ready to do good together, and recommendations for telling your story to build excitement and celebrate your impact
Get social with Activity Streams
With Activity Streams, app users can upload and share photos of their volunteering experiences right from their phone's camera roll. The photos will appear within the volunteer opportunity, as well as a social feed (or activity stream) under the Discover tab in the app!
We've pulled together a PDF of some of our frequently asked questions, including security questions so you can get up to speed before launching.
Resources for your People (Launch Resources for end users)
We've pulled together a resource file of printable posters, customizable email templates and installation guides you can easily share with your people to get them up and running on the app right away! In this .zip file we've also included the design files for these elements in case your in-house brand team would like to make any changes!
End User Help Centre
Talk to your Benevity Client Success Manager about enabling the Benevity App content in the End User Help Centre - it's available through your Spark site. Once enabled you can share links to this helpful content in any communication you are planning!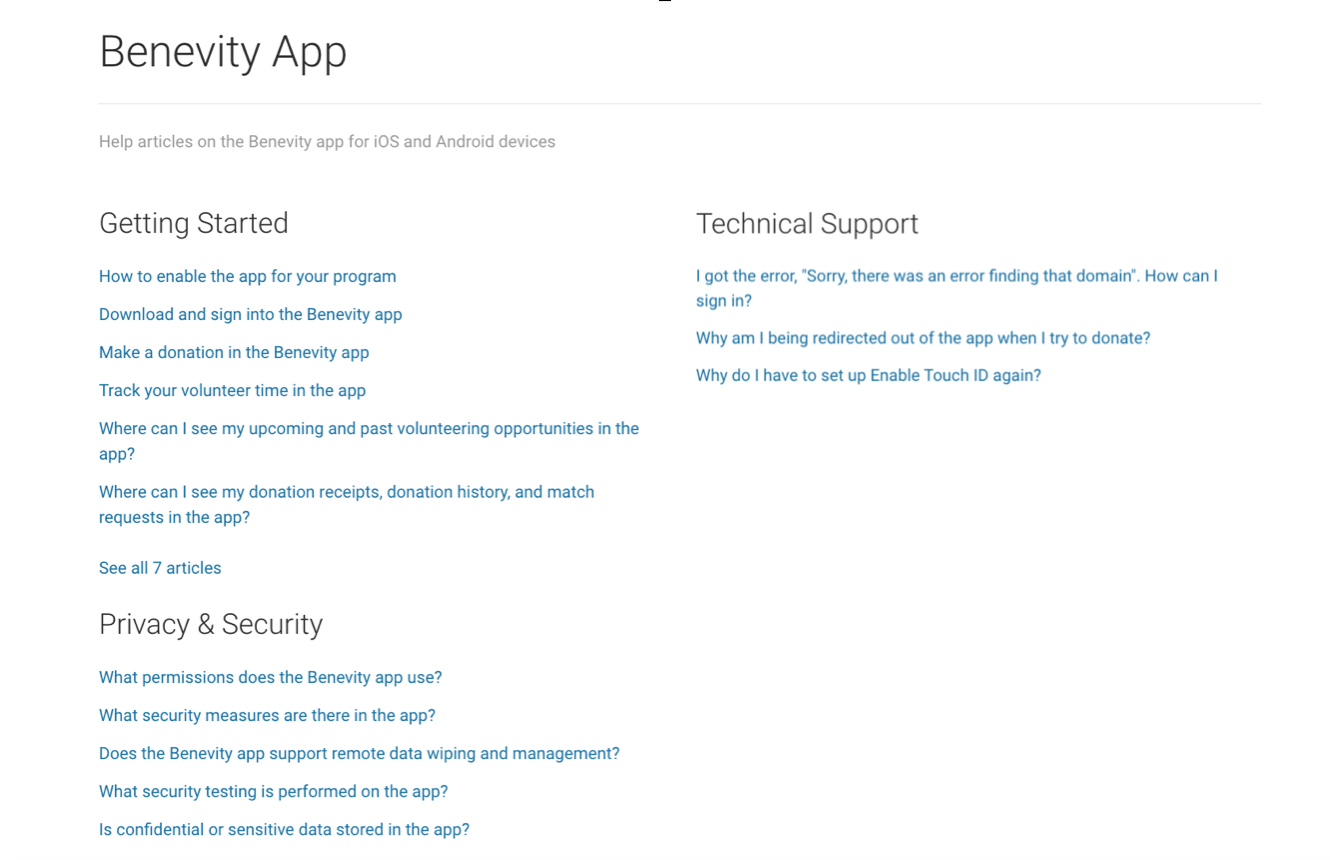 Interested in learning more? Reach out to help@benevity.com to connect with our teams!