Within Spark's Manage settings, you can edit the landing page of your CI Portal site. This is the first page people will see when arriving at yourprogramname.benevity.com/community.
To access the CI Portal landing page settings:
Sign in to your Spark site.

Select Manage in the top-right corner.
On the main navigation bar, select Company Giving > Manage Community Portal.

Select the Landing Page tab.
What you can edit on the landing page
Title
Add a short title, giving your external community instant context and a welcome to your site.
Subtitle
Use this field to add a quick descriptor of the purpose behind your CI Portal. The subtitle should support your title and quickly introduce visitors to the CI Portal. (128 character max.)
Page description
This field configures the main text block between the Tagline and the Search bar. Use this space to tell people about how they can use the Portal to redeem gift cards and give to causes, or highlight your company's social mission and community impact goals.
"About this website" title and description

Text from "about this website" appears near the bottom of the page, underneath the Search bar and just above the text at the very bottom. Typically, this block provides users with additional details on how to use the site. While the title and description fields are both pre-populated with default text, you can add any content you choose.
Landing page featured content
One of the coolest and most powerful options you have for customizing your Community Impact Portal is the ability to add featured content in the form of Giving Opportunities or cause profiles to the different pages. These are similar to the featured content carousel on Spark, but give you more flexibility with the number of items and order in which they're displayed. You can add a grid of featured content blocks to the landing page, displaying Giving Opportunities and/or Cause Profiles.

The content and appearance your CI Portal are both highly configurable, so you can change and add text directly to the page in several editable content blocks. The featured content grids allow you to add groups of content—Giving Opportunities and cause profile pages—to different pages throughout the portal. These are similar to the featured content carousel on the internal side of Spark.
Example: You can set up a neutral featured content grid. This will display by default to all visitors to the CI Portal. You can also set up a Canadian featured content grid so that, if a person arrives at your portal and redeems a gift card in Canadian Dollars, they will see your Canadian featured content.
Edit the landing page grid
Content grids are made up of groups of content blocks. Each group is three blocks wide, and you can stack as many groups as you like. Click Add to set up a featured content grid. Click New to add content to a grid and then choose a cause or Giving Opportunity. A new content block will appear in your group. Click Edit and use the field provided to find a cause or Giving Opportunity.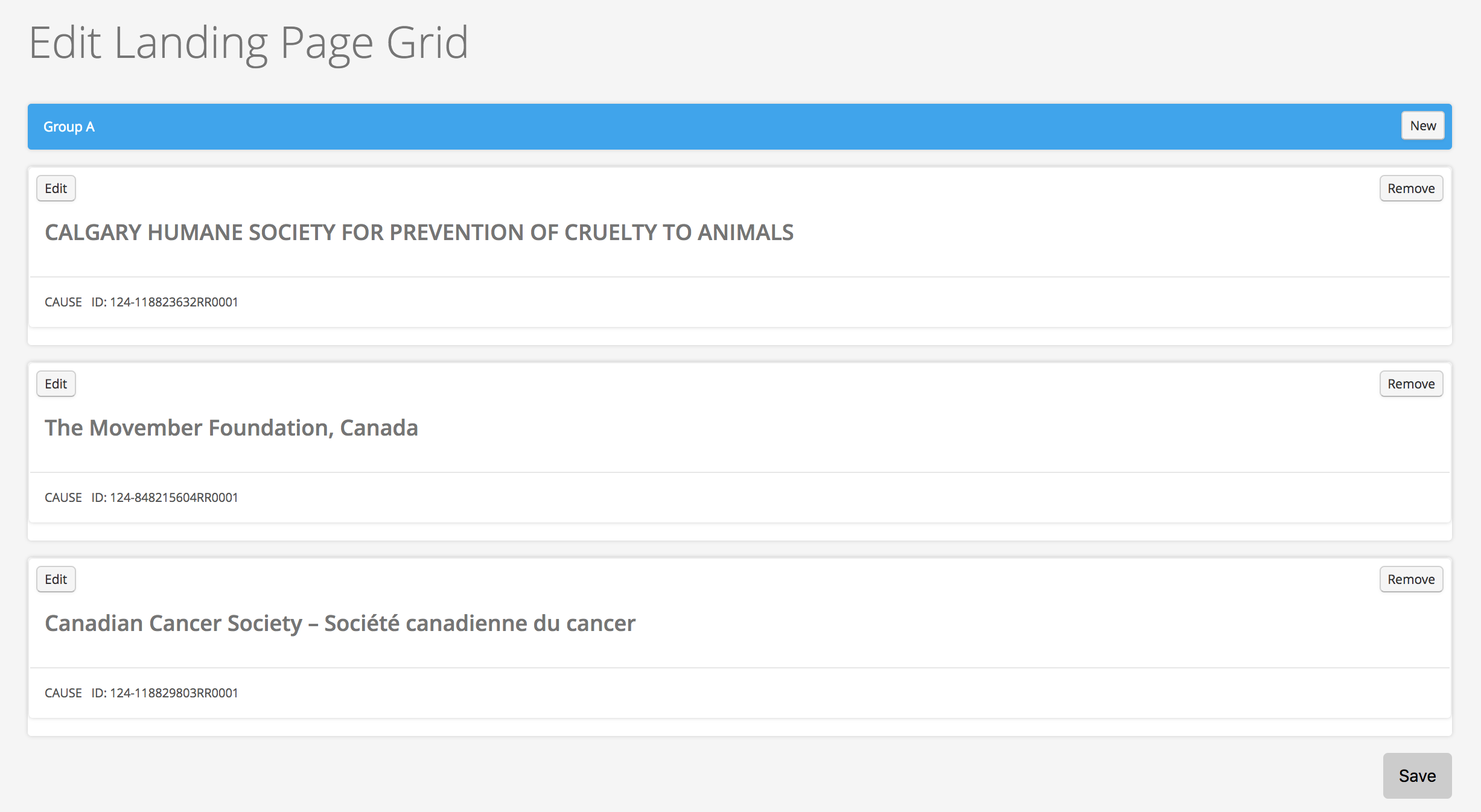 Select your cause or opportunity and click Save. Once you've saved, the content will display on the community page.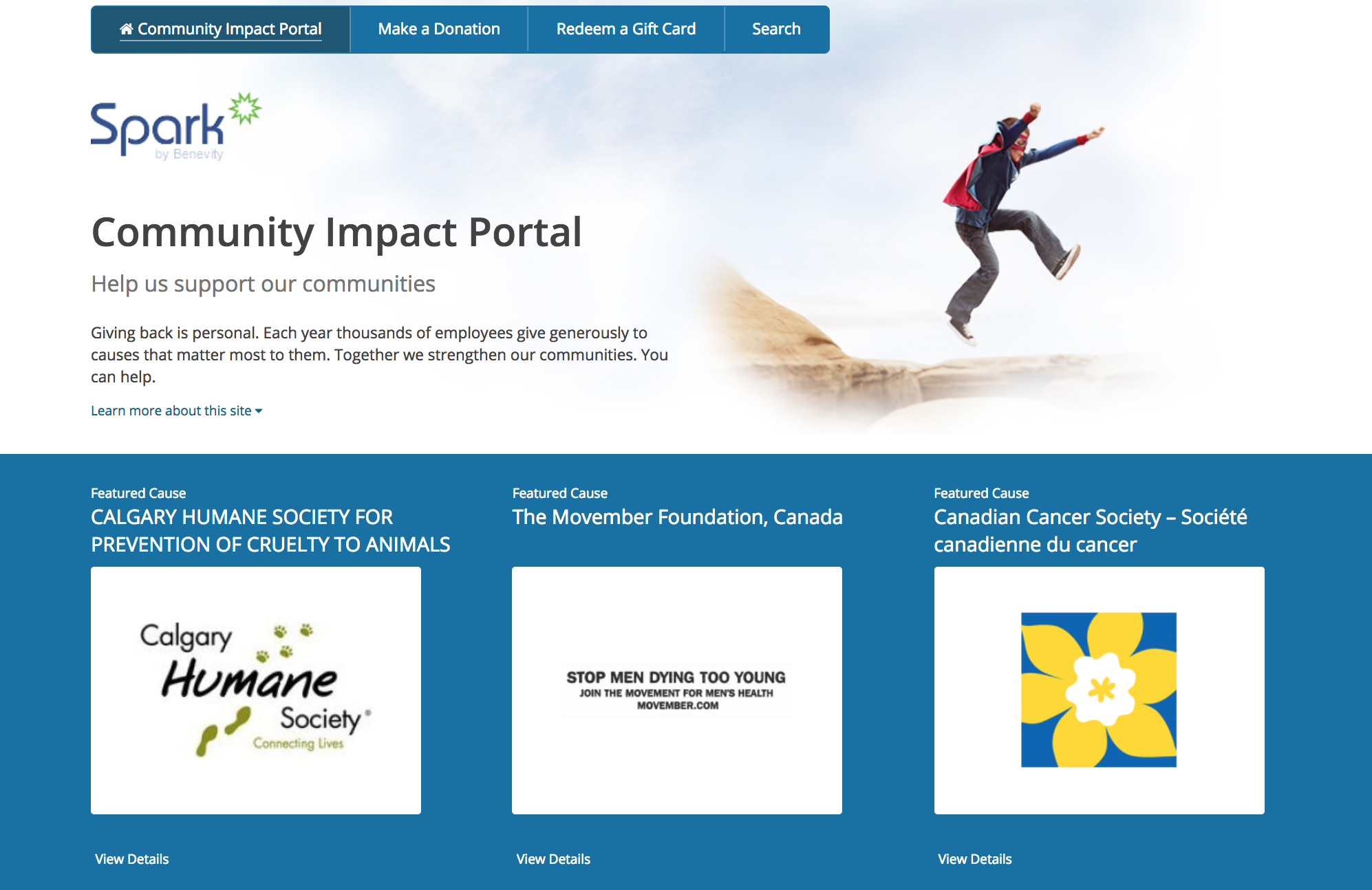 Selecting a particular cause will display content from its charity profile page. Remember that causes are responsible for adding and editing any content on their profile via the Benevity Causes Portal; you can't edit this content directly.
When adding a giving opportunity on the Edit page, make sure to select Allow access to this giving opportunity on the Community Portal. While you can search for and select any opportunity, only opportunities with this checkbox selected will display to visitors on the CI Portal. Once you've added content, you can change the display order of your content blocks by dragging and dropping them within the group.
Save and submit
When you're finished editing your landing page, click Submit. Your new content will now display to anyone visiting the page.