The Budget page in Benevity Grants lets you view past budgets, edit current budgets, and plan for future budgets.
In this article:
How to view your budgets
On the main navigation bar, select Tools > Budget.

Showing budgets by year
The Budget for field lets you pick the yearly budget to show. Past, present and future.
To show a budget for a specific year, choose the year from the Budget for dropdown, and select Show. The revisions to the budget will show, and you can scroll down to view the detailed budget as a table.

Editing total annual budget
The Annual budget field represents your entire budget for the year, including your individual sub-budgets.
To revise the total annual budget, enter the new amount in the Annual budget field, add a comment explaining the change, and then select Revise. Although the comments are optional, they're a good idea to keep a written history of why the budget changes were made. Especially if you have other people visiting the page.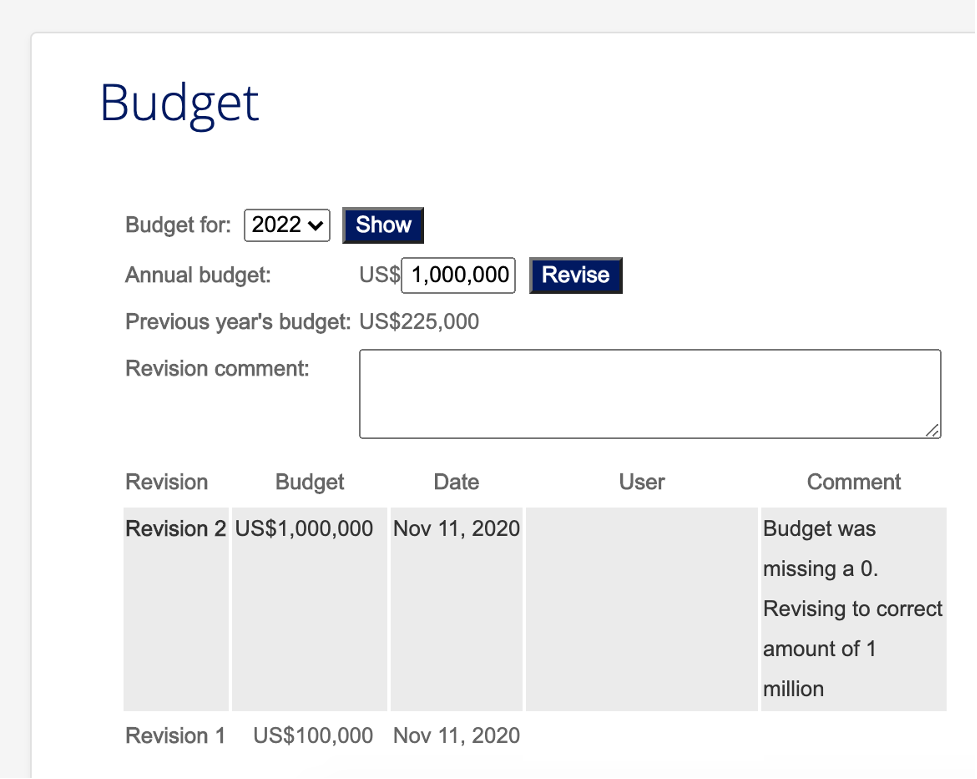 Understanding budget levels
You can have an unlimited number of budgets, but each individual budget has a maximum of four levels. On the table, the four levels are categorized by colours: dark grey, medium grey, light grey and white.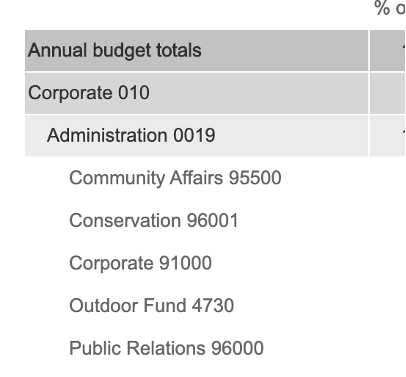 Entering budget amounts
Go to the budget year you want to edit.

Scroll down to the budget table.

In the Total budget column, add the amount of the budgets in their empty field.

Select Save at the bottom of the individual budget.

Glossary of terms
% of Budget: How much of the total annual budget was allocated to a specific budget or sub-budget.
Unallocated budget: Amount of money that was allocated to the budget, but not yet distributed to the sub-budgets.
Total budget: Total budget as set in your annual budget and each sub-budget. The background colours of each budget represent the tier in the hierarchy. The light rows represent the sub-budgets.
Paid: Total amounts that have already been paid out to requests (payment status set to paid).
Unprocessed: Total amount committed to requests, which have not yet been paid out (payment status is unprocessed or processing).
Balance: Total budget – (paid + unprocessed) = balance.
Pending approval: Requests that have payment amounts, which have not yet been approved.
Working balance: Total budget – (paid + unprocessed + pending approval) = working balance.