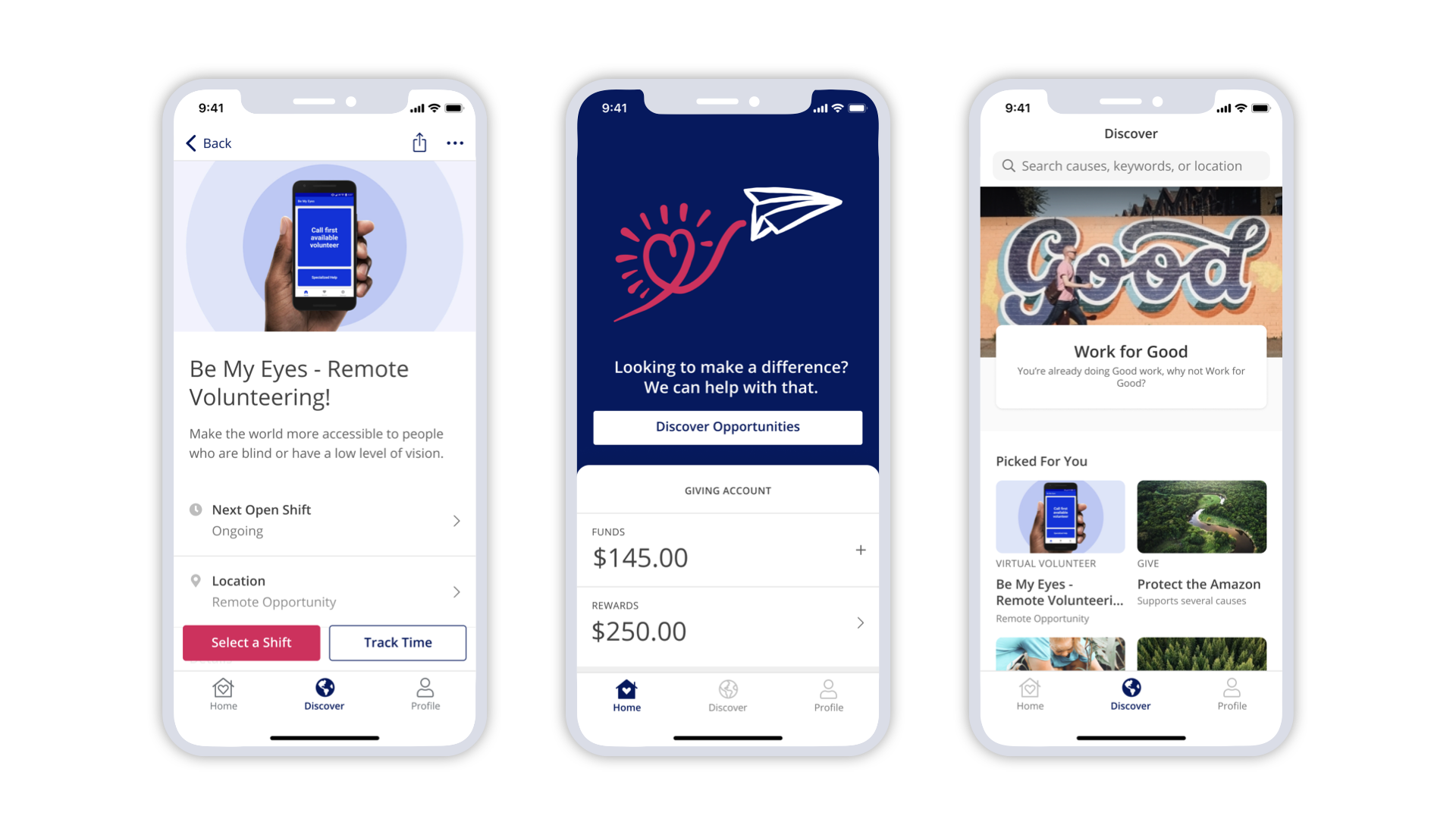 The Benevity app helps you reach more people by meeting them where they are, in the moment. It makes it easy to access your corporate purpose initiatives right from their phone, so anyone, anywhere can volunteer, donate and take positive actions whenever they're most inspired.
Your program is one of the best ways to help frontline and remote employees feel connected to your culture and company, but access can be one of the biggest barriers. The Benevity app is all about removing that wall between you and your people.
The Benevity app is free and people can download it from the App Store or Google Play.
The Benevity app features beautifully designed and easy-to-navigate screens
Home: See Giving Account balances, matching funds remaining, volunteer hours tracked and more. You can also take immediate actions like donate, request a match, or track volunteer time.
Discover more opportunities to do good: The Discover tab is a great starting point for people to search for opportunities that resonate with them. The search brings giving, volunteering, positive actions and causes together, providing a single accessible place to search and find more ways to do good.
With the Benevity app, your people can easily
Donate when inspired: Select a cause or giving opportunity, choose a donation method and confirm! That's all it takes for your people to support the causes they care about, immediately. They can give by payroll, Giving Account rewards, credit card or PayPal. For eligible nonprofits, using Apple Pay on iOS compatible devices makes donating that much easier and quicker! Plus, donation matching and remaining balances show up in real-time, just like on the desktop version.
Volunteer: Select a shift, track volunteering time, and view important information like who's attending, location with a map and organizer contact. And when they're ready to track their time, they can easily enter it directly into the app.
Complete Missions: Employees can participate in Missions on the go by completing activities that help them take positive actions that can add up to major social, personal and business impacts, like riding a bike instead of driving, reducing plastic waste or making meetings more inclusive—and they can track them on the spot.
Get going with ease: Employees can log in quickly and stay logged in with Touch ID/Face ID, making it easier to do good in the moment. SSO available.
Keep data private: Built to meet the highest privacy and security standards, the Benevity app is GDPR compliant and doesn't store sensitive data. Additional security measures include the ability for users to revoke access to their account in case they lose their device and the app automatically locks when a user leaves their phone unlocked or if the app is put into the background.
Push notifications: Employees can receive push notifications for: using volunteer rewards before they expire, tracking volunteer time, and getting confirmation when volunteer time was approved. (These notifications are available for iOS and Android.)



Resources to help you get started