To use this section of Spark, you'll need to have the Bulk email Manager role assigned to you. Once you have this role, follow these steps to build and send emails in bulk from your Spark site. If you need a role added, check out How to Assign Roles or send a note to help@benevity.com to connect with our teams!
Once you've logged in, click Manage in the top right corner of your screen to go to the management side of Spark. Once here, hover your cursor over the People option within the toolbar and select Bulk Email from the dropdown.

From here, you have the option to view and review emails that you have already created and saved as drafts, or anything you might have sent in the past.
The Edit option will allow you to enter into a saved draft and edit the contents and recipients of the specific email. Duplicate will allow you to duplicate the exact email you have drafted or sent already and repurpose it for another day, event or group. It's quite handy if you're trying to push a blanket communication and would like to tweak the message slightly between emails.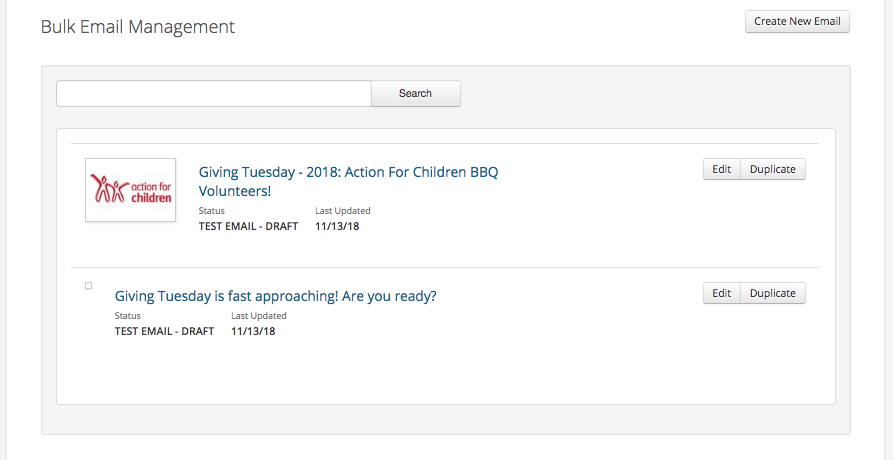 To send a new bulk email, select the Create New Email button at the top right-hand side of this page.
Step 1: Select the Content (optional)
If you want to highlight or remind people how they can get involved with a specific campaign or event, this optional step allows you to add a Giving or a Volunteer Opportunity to the communication. The body of the email will direct people to sign up or make a donation depending on the content selected. You can see an example of this in the preview section below.

Step 2: Choose a Recipient
This step helps you select who will receive the email.
Send to a custom field group: Custom field groups are predetermined classification groups that are created via your demographic data (or HR file) that we feed into Spark. These are typically things like Department, Office location, Province, State, City, etc. If you don't see any groups here, please talk to your Client Success Manager on how to have them added.

Send a test email: This allows you to set up the email as you please and choose to send it to yourself so you can see exactly how it will come through once you hit send.

Send to all users: This option will send to all active users that you currently have in your Spark site (ideal for communicating the big wins and exciting announcements).

Step 3: Add a Message
Add a captivating subject line and the body content of your email here. Keep your audience and the "why" behind the message in mind when writing it to ensure it's well received and articulates your points clearly and in a concise manner.

If you'd like to add some formatting to your message, select the Enable Rich Text option. Once enabled, you can bold, add italics, underline words or sentences, and add hyperlinks if you'd like to drive traffic to a specific website or even back to content existing on your Spark site (e.g., news articles, Giving or Volunteer Opportunities).

Once you're feeling comfortable with what you have set up here, select Preview Email. This will give you one last look at the email before it's sent to the recipients of your choice.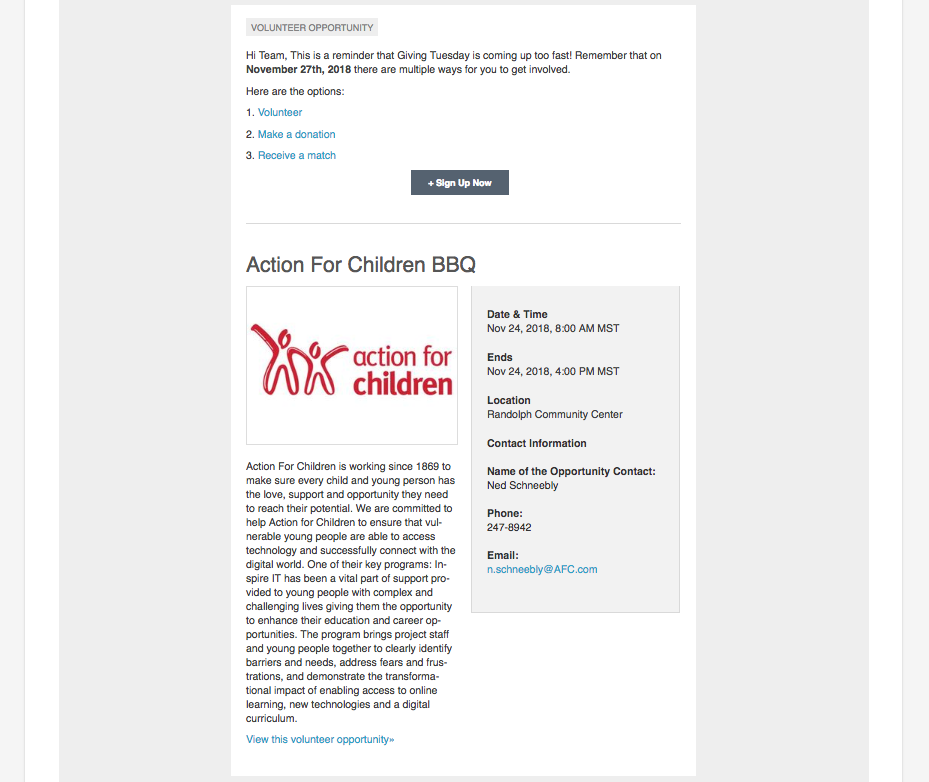 Feel free to go back and Make Changes, Cancel this email or Save Email to save your work as a draft.

If you're ready to send this email, select Send Email!
Pro-tip:
If you'd like to send an email to a specific group of people that are not broken out by Custom Field Groups, you can create your own email list using the Email List Management tool!
Once you have created your Email list, filtered, and selected users by that particular list, scroll down to the batch updates section and select Send email to users.
From here you can move forward with creating your message as needed to this specific group as detailed above.