Quick filters enable you to group volunteer opportunities according to a custom set of criteria and make them visible to users with just one click.
1. Navigate to the Volunteer page
Once you've logged in, click Volunteer in the navigation bar.
2. Search criteria
From here, you can use the search and filter options to narrow down the volunteer opportunities that are displayed, based on your criteria.
Make sure you specify location, date and if the opportunity is a single event, an ongoing initiative or something your people can participate in remotely.
If you are looking to get more specific, the Filter section does give additional selections to add.

3. Select Create Quick Filter
Once your search information is applied, only the opportunities that meet the criteria will appear in the list view. You will also notice a button at the top of your screen to 'Create Quick Filter'. If selected you will be creating a quick filter with the search criteria you have just added.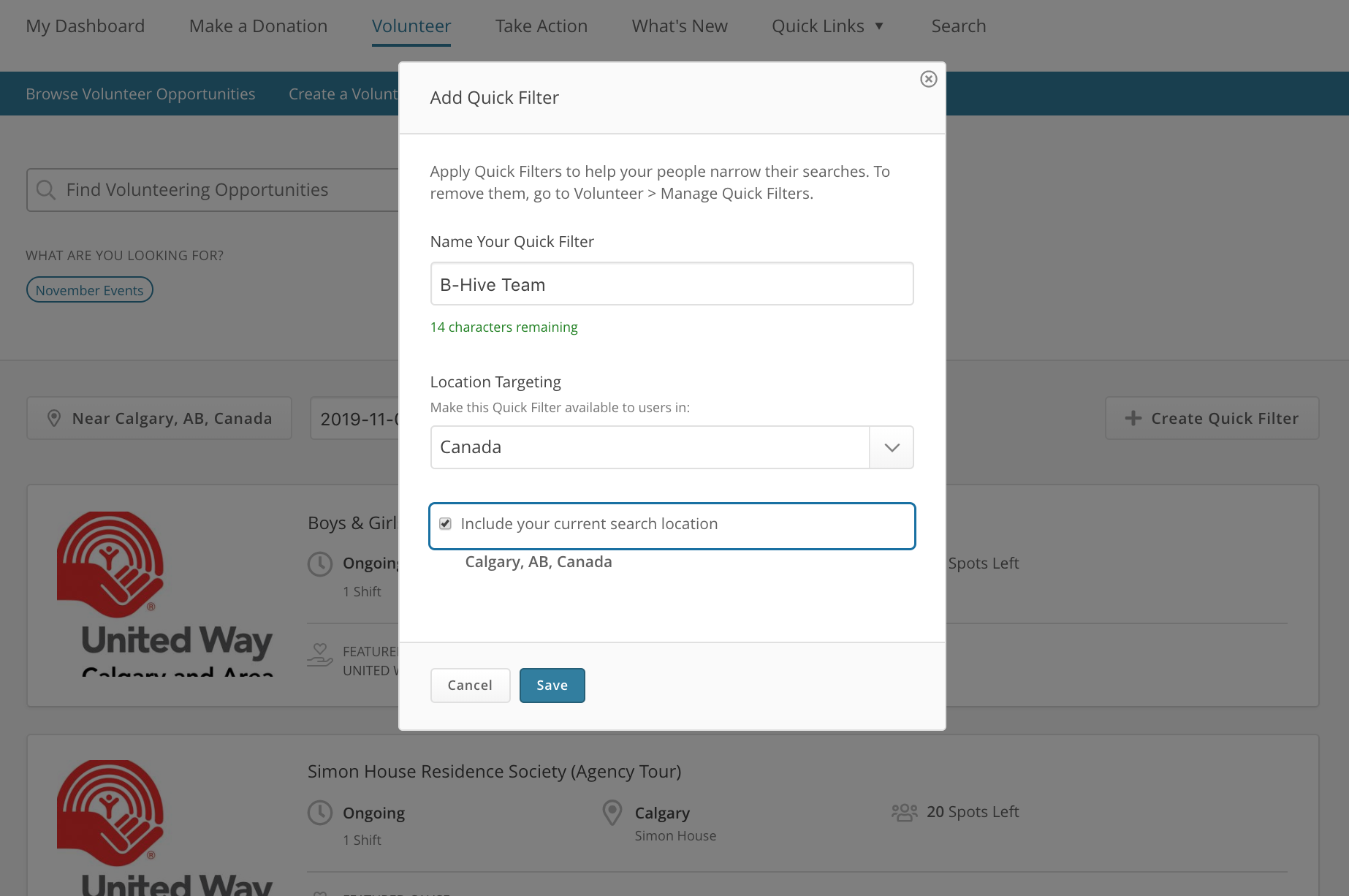 4. Give your quick filter a name
Give your quick filter a name that will be easy for your people to understand at a glance!
You can also choose to feature this quick filter to a group of your people based on what country they are in. Depending on your site configuration, you could have one or many countries to choose from.
If location is an important criteria, be sure to check the box to include it when creating the quick filter.
Once you have entered all the information, click Save.
5. Review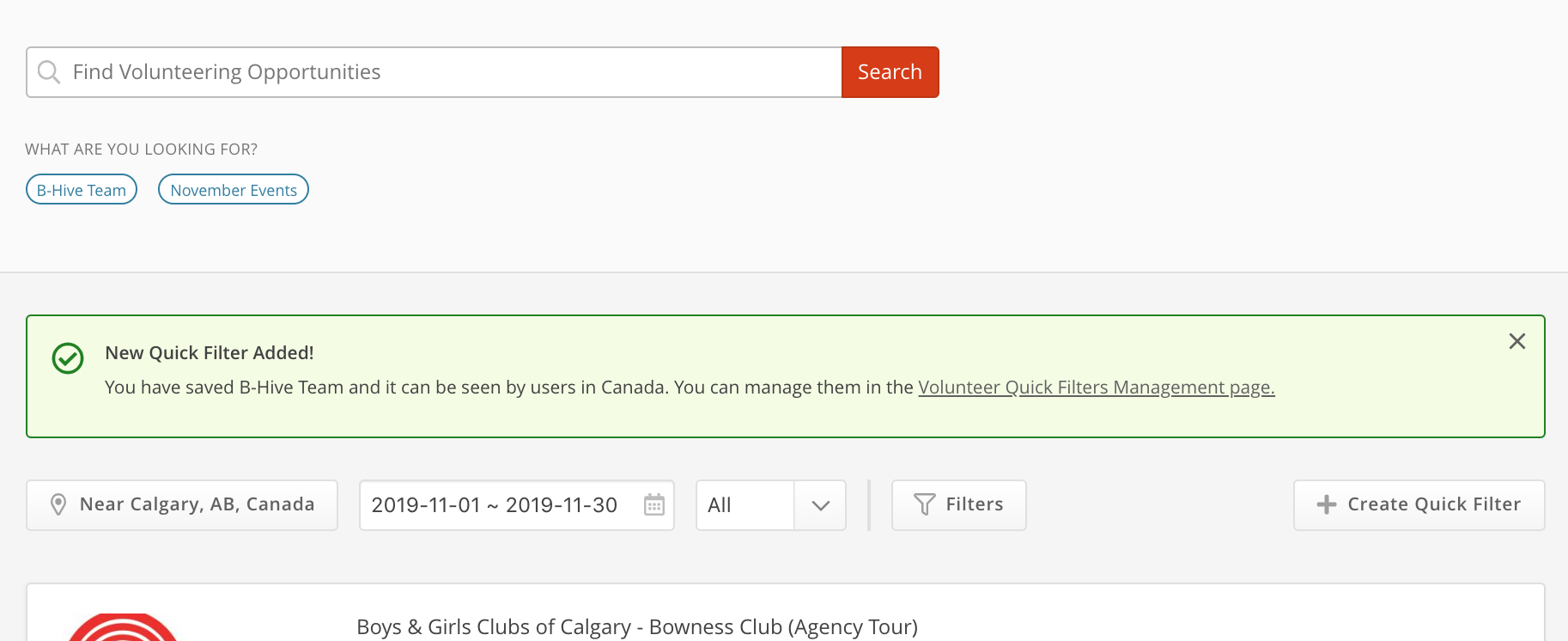 After submitting, you will see a banner notifying you that the quick filter has been created and you should now see the quick filter selection at the top of the Volunteer page.
If you'd like to view all active quick filters on your site select the link provided in the banner. This will take you to the Quick Filters editor on the management side of Spark.
From here you'll be able to:
Change the order in which quick filters are displayed by dragging and dropping, or using the up and down arrows

View a quick filter

Edit the name and country targeting of a quick filter

Clone a quick filter

Delete a quick filter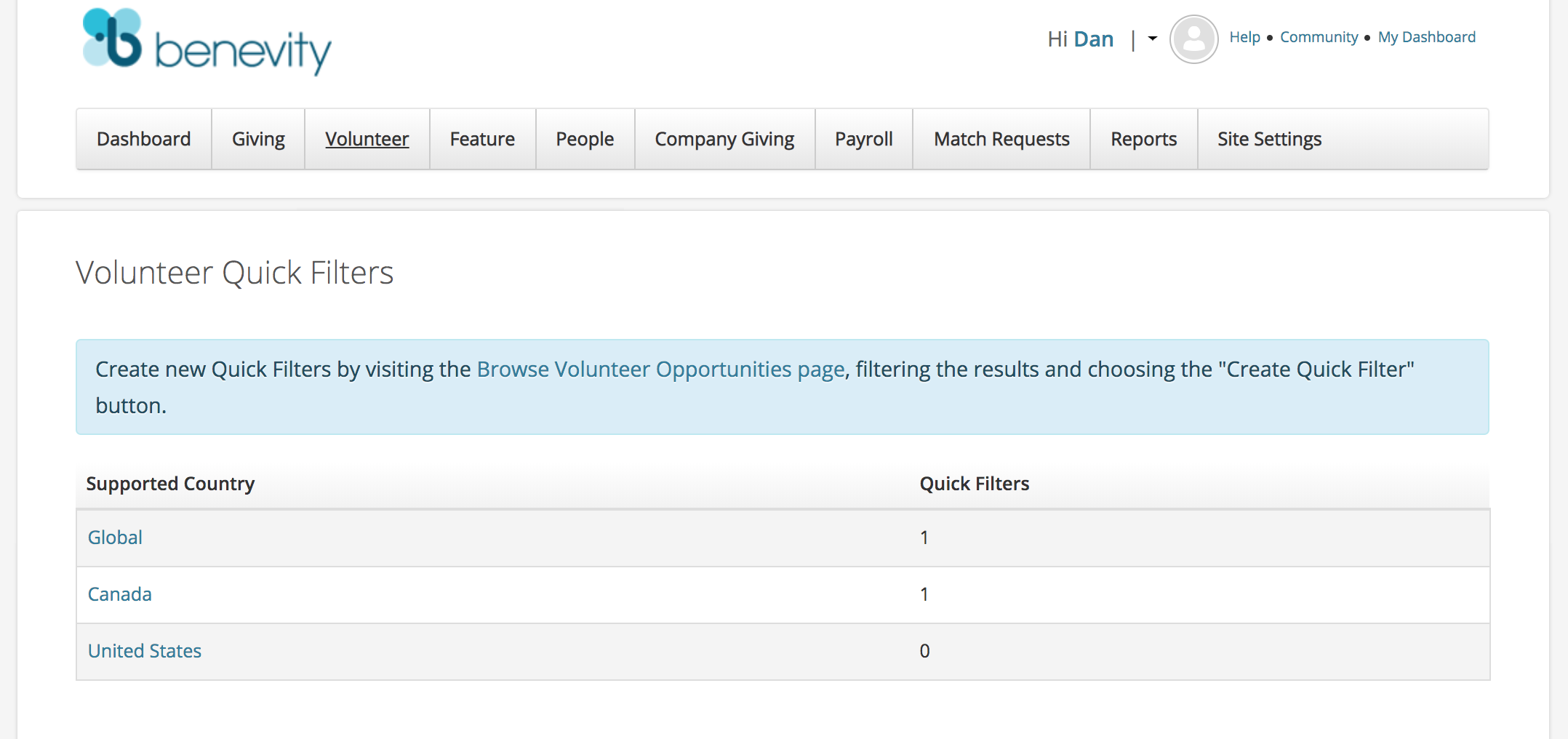 6. Test the new filter
To test what your users will see, navigate to the Volunteer page. You can now see the quick filter button on both pages and your users can click these buttons to access those events more quickly.