Budgets can be standard or custom depending on your program's complexity. Here, you will learn about a standard budget setup for simple needs and considerations for managing your own budgets.
What is a budget?
Budgets help you track and limit corporate spending for different parts of your program. Each budget uses one currency. The transactions in a budget depend on the Budget type and if there is a Budget amount (corporate limit) or Per user amount (employee rewards limit). 
There are many scenarios where it is helpful to keep track of your budget usage:
Monthly, to track annual usage and to track budgets before they are maxed.
Before and after all campaigns to ensure sufficient funding.
After you have requested the creation of a budget or edits to a budget to confirm the changes.
After your budgets have reset for the year to confirm the correct amounts.
Before an internal presentation, you can use the data export.
Let's explore how budgets work to control your finances!
Budget Types
Budget Type represents the main type of transactions in the budget. Other transaction types may apply based on different configurations:
All Budget type transactions:


Matching transactions
Volunteer rewards transactions
Other transactions may be included:


Corporate donations, My Funds seeding, My Rewards seeding, New Hire credit, Company gift cards, PAC matching

Volunteering (Primary) Budget type transactions:


Volunteer rewards transactions
Other transactions may be included:


Company gift cards, PAC matching

Matching Budget type transactions:

Different transaction types are included in each budget depending on your program's budget configuration. To confirm your budget setup, submit a support request. You can also access budget reports in Benevity Reporting to answer additional company spending questions.
Budget Rules
Budget rules place transaction limits on a budget.
Budget amount is the total amount authorized for a budget.
Per user amount is the total budget amount an individual user has access to.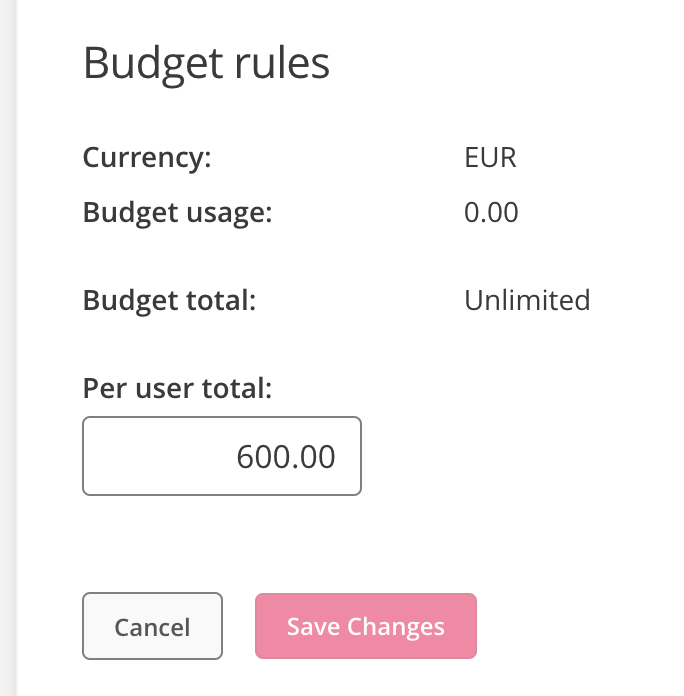 Hierarchies
If you have the default budget setup, it is likely your budgets in a given currency will be configured in one of the following ways:
1. Only an All budget.
Best practice for a blended rewards program:
Updates to the Budget amount on the All budget affects all corporate spending.
Updates to the Per user amount on the All budget affects the total of matching and volunteer rewards you wish to provide to employees.


2. Parent All budget.
     - Child Matching budget

and/or
     - Child Volunteering budget
In this situation, the All budget covers spending on matching and/or volunteering rewards, along with other transactions. The child budgets are set to establish specific limits for each type of reward.
Considerations for budget updates
When managing your budgets, it's important to understand the relationship between them.
The first thing to keep in mind is that you should avoid overriding the limits set for Matching or Volunteering budgets with the All budget limit. Why? Because if you reach the All budget limit first, the redemption of matching or volunteer rewards will come to a halt. In other words, you won't be able to distribute rewards to those who have earned them.
The following rules should be followed when updating amounts:
All Budget Amount (Corporate Limit) >= (Volunteering Budget Amount) + (Matching Budget Amount)
If you want to set limits specific to matching or volunteering rewards, you should only have a Per user amount in the Matching or Volunteering budgets, not the All budget.
Make sure that the Budget amount sufficiently covers the Per user amount for all employees who affect the budget and have accepted the terms of use.
Other Budgets
We can create custom budgets for complex needs. Our team will partner with you during setup to understand your needs and recommend the best approach. Budgets can also be changed later through an enhancement for an extra cost.