Getting started with a communication plan
While there are many creative ways to approach program communications, building an annual communication plan is one of best places to start. A solid communication strategy will help you deliver a unified message and will provide better reach and connectivity between your people and your program. In this article, you will find an overview of the Hum, Sing, Shout framework, which will show you how to build a communication plan from the ground up. At the end of the article, there is a worksheet you can use to take the next steps.
Introducing Hum, Sing, Shout
We've developed an easy-to-remember framework for building your communications plan; we call it, Hum, Sing, Shout. Each communication frequency plays a different role in your 12-month plan and in concert, they form an award-winning communication strategy.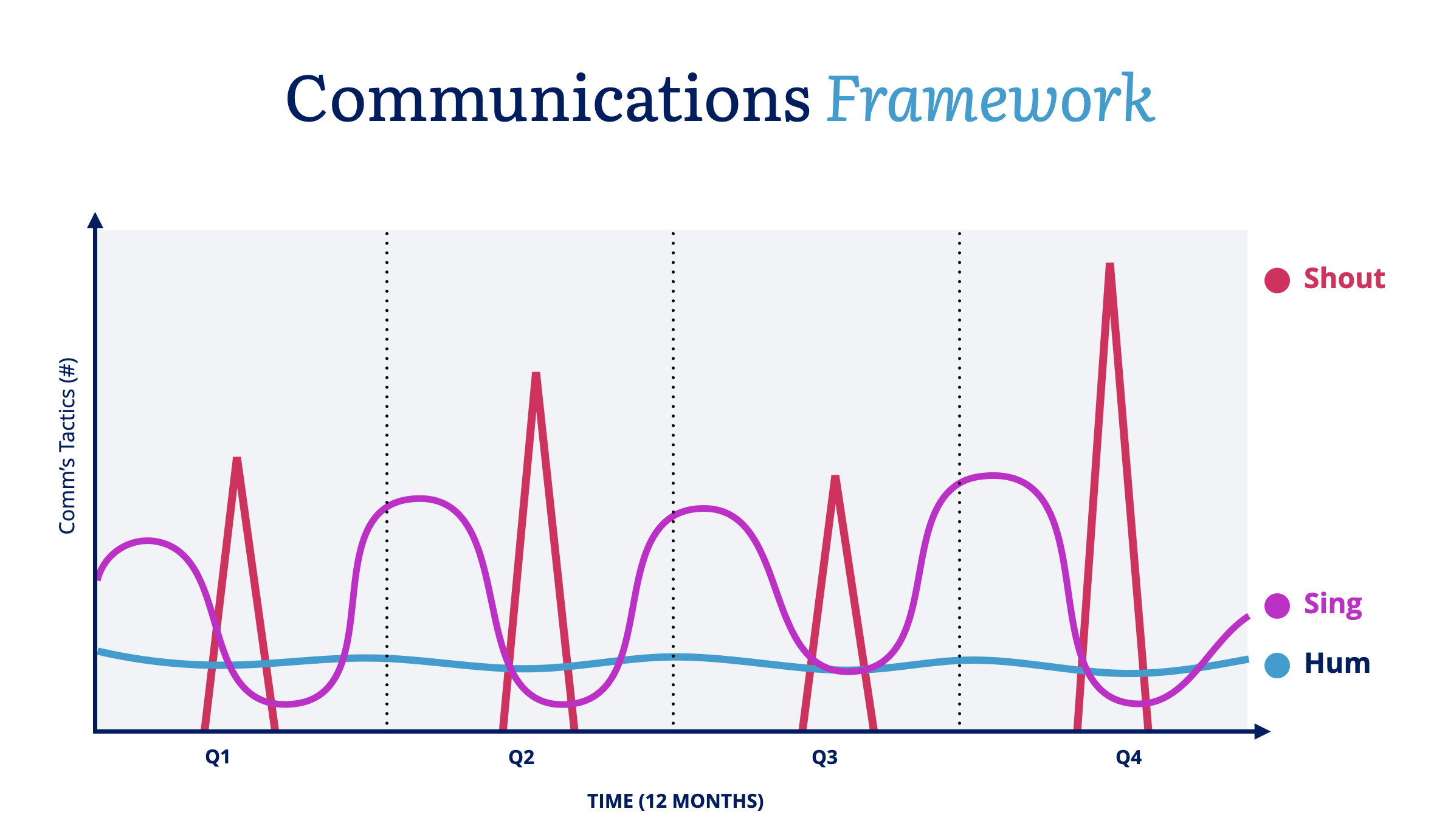 Hum communications
These subtle but powerful "always on" communications are key to building and maintaining program awareness year-round, and they are integral to keep your program top-of-mind for your people. Keep the messaging simple and consistent, and try to execute on as many hum communications as you can. Here are some examples:
Add a program overview to new-hire orientation packages

Enable automated welcome emails that come directly from Spark to welcome new hires to your program

Create email signatures for your team and for program ambassadors

Create digital assets like desktop screensavers, web conference backgrounds and ads for use in your corporate intranet or internal messaging and ERG software

Create an intranet page that houses important information like FAQs, program guidelines and updates

Add information about payroll donations to payroll stubs

Create an internal communications channel where employees can ask questions and get updates

Create functional swag: socks, water bottles, volunteer t-shirts, totes, stickers, and more!

Put up posters in your office locations

Name a meeting room after your program
Sing communications
The aim of these recurring communications is to motivate your people to take tangible actions like donating, volunteering or doing small acts of goodness through Missions, year-round, through your program. All of these initiatives are measurable—and will directly contribute to increased employee participation rates. Here are some examples:
Create a Goodness Program newsletter that is delivered monthly or quarterly

Feature news articles in Spark highlighting program impact (donation volume, volunteer hours, number of causes impacted) so that employees can see how their actions are moving the needle and foster some healthy competition

Schedule regular, recurring pop-ups around the office to drive program participation or volunteer opportunities

Organize volunteer events for new hires

Set up recurring virtual volunteer happy hours

Interview volunteers and highlight their community contributions

Host lunch n' learns or activation events about your program or partner causes
Shout communications (for campaigns)
These are special, attention-grabbing communications that happen just a few times a year with the objective of getting your people to take action during important campaigns (eg. Giving Tuesday, Earth Day, Week of Service). Go ahead and make a big splash with these communications and make sure your call to action is clear. Here are some examples:
Get your executive team to communicate via email, video and town hall events

Empower program ambassadors with campaign communication kits they can deploy virtually and in office

Work with your internal communications team on a company-wide email

Light up internal channels like Slack, Teams or Yammer with opportunities to learn and share

Promote your campaign via desk drops, lunchroom posters or announcements on LCD screens

Host in-person and virtual campaign launch events
How to build an annual communication plan
Download the Communication Planning Worksheet to brainstorm Hum, Sing and Shout communications.

Use the communication planning calendar or another calendar tool with your team to document the dates you will be launching each communication tactic in the next 12 months.

Share your plan with the people you will be collaborating with, ask for feedback and determine next steps.

Begin executing on your plan! As the year progresses check in

in

on the impact your communications are making, are they increasing program awareness and impact? Adjust your plan as needed to meet your program goals

.